Welcome to Desire Resort & Spa - Cancun, Mexico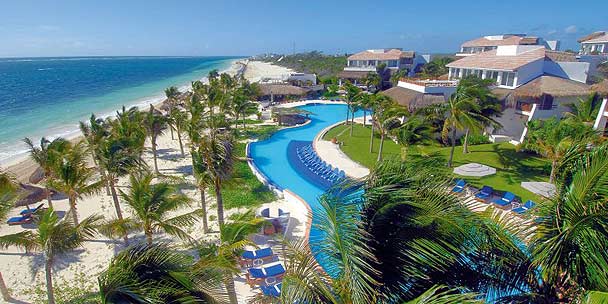 Imagine a place of freedom where fantasies become real, a place of beauty, of eroticism, a place to abandon inhibitions and truly be you. Imagine sharing this paradise with like-minded couples who also seek a sensuous, clothing-optional upscale venue for an adventurous experience. Desire Resort & Spa Riviera Maya, located on Cancun's Riviera Maya is a unique couples-only, adult resort -the first and only of its kind in Mexico- that will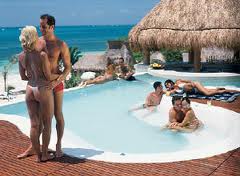 unleash your imagination and stimulate your senses.
Conceived as a village, Desire has a superb architectural design that blends seamlessly with its vibrant and tropical surroundings, the resort features 114 guest rooms and suites with views overlooking the lush gardens or breathtaking Caribbean Sea. An all-inclusive formula provides Gourmet wining, dining and lounging. An exciting nightclub, full-service gym and luxurious spa are here for your pleasure. Activities, entertainment and water sports are a must, providing you with inspiring, flirtatious, socializing and multiple ways to let yourself loose.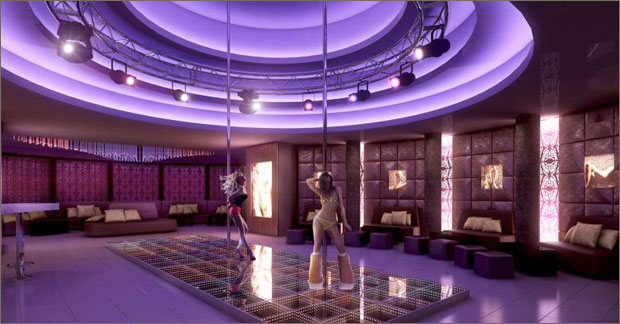 Desire Resort & Spa Riviera Maya is set amongst lingering ocean breezes, powdery white sand and the seductive, picture-perfect hues of the Caribbean. New enhancements include the addition of beach beds and the introduction of a beach and pool concierge service providing every element for a relaxing day of sunbathing. This resort goes the extra mile by equipping all concierge staff with two-way radios, ensuring all guests' needs are met with the utmost efficiency. A new beach bar, conveniently located mid-way among the beach beds, offers an assortment of cocktails. Soothing rhythms and sounds from new speakers facing the beach adds ambiance to the beachside. Enjoy the new relaxing section of beachside hammocks. Desire Resort & Spa sets the scene for your wildest dreams to come to life. Open your mind, fall under the spell and feel… Desire.
El Arrecife is an exciting restaurant of a contemporary décor where seductive music is played, varying with the different, special theme nights. El Arrecife is open everyday offering sumptuous breakfast buffets from 7:00 am until 11:00 am. And themed dinners are held from 6:30 pm until 10:00 pm.
DINNER Sumptuous buffet.
Dress code: Casual.
Reservations not required.
IL PIACERE

At Il Piacere, enjoy the most fascinating specialties from every corner of the world and experience the real flavors of paradise. Waiters will always be at your disposition for any special crave you may have.
The soft lighting will transport you to far lands and submerge you in romance, intensifying your sensual culinary experience. Experience the romantic ambience of our lounge bar where you can try our high quality liquors (extra charge). The wine cava for your delight displays a selected variety of the most exclusive wine sorts there are around the world.
Il Piacere is open from 6:00 p.m. until 10:00 p.m. Although Desire is a clothing optional resort, this restaurant has a casual-elegant dress code. No reservations required.
Haute cuisine dedicated to International specialties served in a trendy, minimalist-chic setting, chefs tasting menu available (extra $) Soft music and lighting will submerge you in romance, heightening a sensual culinary experience.
Dinner: 6:00 pm - 10:00 pm.
Dress code: Elegant.
TENTAZIONE
Enjoy a full lunch menu including salads, ceviches and top notch main dishes with the quality, portions and presentation reminiscent of Desire's three specialty restaurants. This casual, central location near the main pool is ideal for those wanting to see and be seen. Also open for dinner on selected nights.
This restaurant is an excellent option for those who don't want to miss anything or anybody on the pool or the beach while having an exuberant lunch, or just a simple snack. It offers a perfect place to enjoy the best of what Desire resort has to offer: an exciting pool, an incredibly beautiful beach, beverages, top class food, and hot bodies under the golden and shinny Caribbean sun.
After having a snack, you can have a drink at the Tentazione's bar, which is just besides the restaurant. Tentazione is open everyday from 11:00 a.m. until 6:00 p.m. for your delight. Room service is available during operating hours.
SUKI
Suki is a luxurious journey into the Asian tastes and fashion. Inviting shades of red, white and dark chocolate contrast with the padded wall that offers white lights while an original ceiling, shaped as a wave, adds to the sophisticated décor providing the perfect setting for a stylish dinner.
Suki restaurant also serves you high quality wine and of course, the traditional liquor "Sake" Plum Dew for an authentic Asian tour of flavor.
Enjoy the most unique dinner with a large group or in a more intimate occasion for two. You can choose either to sit on tables or in one of the two four seated sushi bars, where it is possible to admire the Tepanyaki chef do his work while he teaches you and your party small techniques, words or games of the Asian gastronomy.
This sensual dining venue of Desire Resort can only be called unique. Asian delights and daily main course specials include the freshest Sushi, tastiest Tepanyaki and most savory desserts, presented in a both intimate and mystical atmosphere.
Dinner: 6:00 pm - 10:00 pm.
Reservation required only for Tepanyaki.
Dress code: Elegant.
ROOM SERVICE
Enjoy Desire's deliciously complete room service menus from the privacy of your own room 24 hours a day. Snuggle up for breakfast in bed, have a leisurely lunch in the late afternoon or simply plan for a romantic night in with your favorite guest. (additional fees may apply)
For jacuzzi suite and passion suite 24 hours room service included.
* The operation days will vary according to the weather conditions.
ROMANTIC DINNER BY THE SEA
Make your reservations for a superb gourmet candlelight dinner served on the beach under our palapa. Enjoy the sounds of the surf and see the stars during this memorable experience. (additional fees may apply)
Desire Resort Cancun FAQ's
EXACTLY WHAT DOES "CLOTHING-OPTIONAL" MEAN?
If you choose to go topless or naked- in the pool, at the beach or at the roof-top Jacuzzi Lounge, you may certainly do so. But there is never any pressure for you, or any guest, to do anything you might find uncomfortable. Our guests are mature and sophisticated; a "live and let live" philosophy is key to the enjoyment of an alternative lifestyle.
Cover-ups, however, are required where food is served, in the lobby and certain other public areas. And although guests are expected to be fully dressed at the Disco, this does not mean that they cannot wear revealing outfits; on the contrary, we are very open to SEXY. The couples-only SIN ROOM, adjoining the Nightclub, is available to our guests who may want to explore alternative-lifestyle options.
IS SEX ALLOWED AT THE POOL OR BEACH?
No, all forms of sex are prohibited at the pool, beach and public areas of the hotel. However, Desire has designated special spots for open displays of sex, such as: the Sin Room and the Jacuzzi Lounge.
ARE DRINKS INCLUDED ONLY WITH MEALS?
No. Desire is a fully All-Inclusive resort. All drinks, cocktails and refreshments are included, 24-hours a day. We offer a wide selection of internationally known brands. For guests who prefer certain premium brands or ones that we do not ordinarily stock, a reasonable surcharge is made.
CAN GUESTS WALK NUDE IN THE HALLS?
We ask you to wear cover-ups in public areas that are not designated as clothing-optional.
ARE PHOTOGRAPHS ALLOWED AT THE RESORT?
The taking of photos is only permitted in guest rooms.
IS THE FOOD AT THE SNACK BARS INCLUDED?
Yes, all meals - snacks, buffets and gourmet dinners are included.
ARE THE NUDE AREAS OPEN TO OUTSIDERS?
No. Although all beaches in Mexico are 'public', the resort is located on a very secluded stretch of beach along the Riviera Maya.
ARE THE RESTAURANTS TOPLESS?
Although the restaurants that serve breakfast and lunch are casual and comfortable venues, men are required to wear shorts and women are required to wear a cover-up over their swimsuits. Likewise, shoes must be worn, and no wet clothes are allowed in any of the restaurants of Desire.
DOES THE HOTEL HAVE ROOM SERVICE?
Yes. Desire offers 24 hour Room Service, (at an additional charge) except for Penthouse Passion Suite guests.
DOES THE RESORT HAVE LAUNDRY SERVICE?
Laundry service is available at an additional charge.
ARE DAY PASSES AVAILABLE?
Desire is a clothing optional, couples only resort where we guarantee a private and intimate vacation. Then, looking after the privacy of our guests, we do not sell any day or night passes.
IS THE RESORT FOR SWINGERS?
Guests at Desire enjoy their privacy and see their vacation here as an opportunity to be themselves; they can dress sexy, dress up for theme nights, enjoy clothing-optional areas and partake in activities at which they feel completely comfortable. DESIRE appeals to liberated, upscale vacationers, nudists and swingers. The ambiance attracts a wide variety of guests, giving the resort a wonderful mix and personality. As a general rule, guests come to Desire in order to:
Meet other like-minded couples (male & female).




Experience a spirited, fun vacation, sunbathe topless or nude.




Enjoy a resort where they have the freedom.




Do what they want.




Test the waters' of an alternative-lifestyle!



ARE WATER SPORTS INCLUDED?
Yes, non-motorized water sports are included as part of Desire's all-inclusive amenities: kayaking, sunfishing, sailing and hobie cat instructors are available for each of these activities.
IS AIRPORT TRANSFER SERVICE PROVIDED?
Round-trip transportation to and from CANCUN INTERNATIONAL AIRPORT are available.
WHAT ARE THE MOST POPULAR AMENITIES AND SERVICES AT DESIRE?
Accommodations: Rooms, Suites, and Penthouses with luxurious Ocean Views.
Personalized check-in, including welcome glass of sparkling wine




All meals (breakfast, lunch and dinner)




Dining at 2 specialty restaurants: International, Mexican & Asian




Poolside Lunch




Daytime & late night snacks




Premium alcoholic beverages, fine house wines, beer and refreshments




Food and beverage service available 24 hours




Around the clock, 24-hour Room Service, service charge.




Day & evening entertainment programs




Non-motorized water sports




Sauna and steam room




Fully equipped gym and spa




Hotel taxes and tips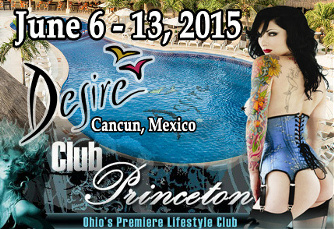 DESIRE 4TH OF JULY GROUP TOUR - JULY 3-10, 2015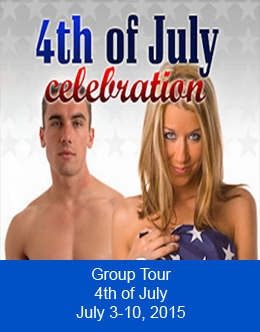 VAMPIRES & VIRGINS AT DESIRE RIVIERA MAYA OCT. 31 TO NOV. 7, 2015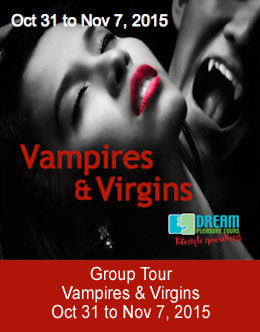 If you are interested in dates that are not listed above Please
Call or Text: (347) 989-4530
Or
Toll Free (800) 349-3025 EXT 207