PUERTO VALLARTA TAKEOVER OCTOBER 17-24, 2015
1- 800-349-3025 Ext 207 or 304-238-8688

A full takeover event we are transforming the entire place as a lifestyle resort meaning the pools, Jacuzzi are clothing optional. The hours of the bars and restaurants are adapted to cater our group. In addition we are bringing live performers, International DJ's, a production company to set up the club/disco, foam party, playrooms etc. We will offer as well a couple of excursions clothing optional and a Beach club with beds on the beach that will allow nudity and playroom!
We guarantee you is an event like no other you have seen before!
Puerto Vallarta
Experience the warmth of a place which is quaint and full of history, yet modern, vibrant, exotic. Discover a destination of relaxing beaches, world class restaurants, and the latest in ecotourism and extreme adventure, in a setting that is internationally recognized for its charm and friendliness, with a backdrop of mountains, rivers, coastline, and emerald green waves of the Pacific Ocean.
Stroll down the Malecón, Puerto Vallarta's half-mile promenade that lines the city's historic center and waterfront. Enjoy the many cafés and nightclubs, as well as the famous open air sculptures. Lose yourself in a breathtaking sunset.
Puerto Vallarta truly is a world class tourist destination. It was named "World's Friendliest City" by Conde Nast in 2001, "Best Place to Retire in the World" by the AARP (American Association of Retired Persons) and "Best Holiday Destination in Mexico" by USNews.com in 2010, "Most Romantic Place in Mexico" and "Favorite Beach Destination in Mexico" by About.com in 2012, and "Best Destination for Conventions" in a convention marketing magazine and "Top 10 Destinations in Mexico," on TripAdvisor.com in 2013.
Barcelo Puerto Vallarta
The Barceló Puerto Vallarta***** hotel is an elegant premium category Mexican style resort on the Playa Mismaloya, with impressive views of the Banderas Bay. The hotel has 4 Diamonds awarded by the AAA (Diamonds classification system).

It has a total of 316 spacious and luxurious rooms divided into 179 junior suites, 109 family suites, 13 master suites, 12 grand master suites, and 3 presidential suites. All of them offer top quality and comfort. Enjoy excellent service, entertainment, beautiful landscapes, lush vegetation and that true privacy you have been looking for.

The hotel offers various restaurants, bars and cafés that are within the Barceló All Inclusive programme, in which you can enjoy varied, high-class international cuisines.

Apart from enjoying the beautiful beach with its tropical waters, you can also make the most of all the facilities at the hotel which include 4 swimming pools, 2 outdoor Jacuzzis, a beautiful tropical jungle, gym, games room and entertainment shows.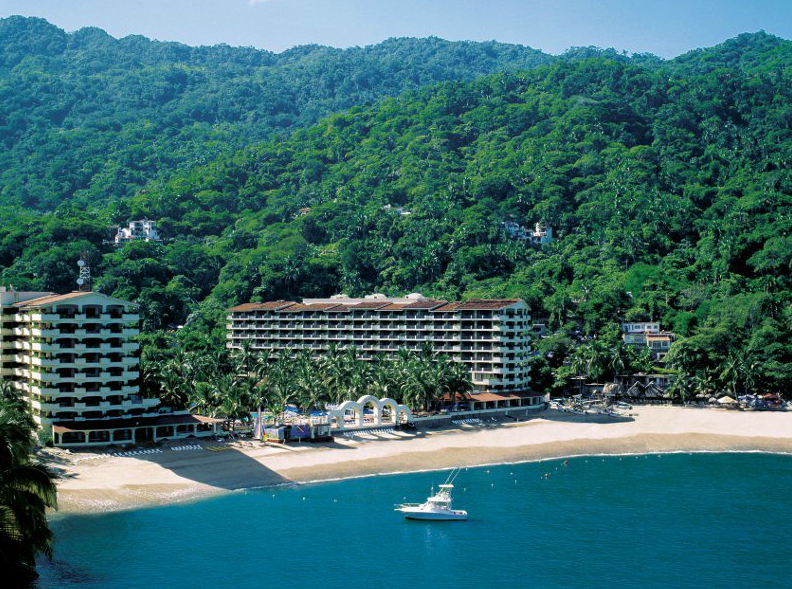 1- 800-349-3025 Ext 207 or 304-238-8688

The Barceló Puerto Vallarta***** hotel is situated on the Playa de Mismaloya, located within the great Bahía de Banderas. In addition, the Barceló Puerto Vallarta hotel is just 15 minutes from the city centre and 45 minutes from Puerto Vallarta International Airport.
Address: Zona Hotelera Sur, Km. 11,5 | 48300 Puerto Vallarta, Jalisco | PO Box 158B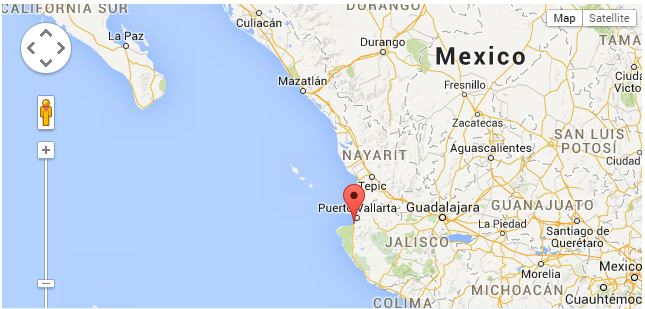 1- 800-349-3025 Ext 207 or 304-238-8688

Health & Beauty

· 2 open air Jacuzzis (for adults only)
· Gymnasium, open from 07:00 to 22:00. (7.00am - 10.00pm)
· Steam baths
· Spa (at an additional cost)
· Massages (at an additional cost)
· Treatments (at an additional cost)

Sports Available at the Hotel

· Aerobics
· Aquatics
· Eco tourism
· Whale watching
· Archery
· Diving (at an additional cost)
· Table tennis
· Water polo
· Volleyball
· Tennis court (lighting at an additional cost)
· Archery

Swimming Pools and Entertainment

· 4 swimming pools:
· Evening shows and daily entertainment
· Games room

Other Facilities

· Car rental (additional cost)
· Travel agency (additional cost)
· Shopping area
· Beautiful tropical rainforest
· Sun loungers and hammocks in the garden (free)
Currency: the official currency is the Mexican peso, although US dollars are widely accepted throughout the country.
Official time: UTC – 7
Official language: Spanish
Population: Approximately 87 million inhabitants
The voltage supplied in the country is 110 volts. The plugs have 3 flat prongs.
Public transport service (Manzanillo): cost $7 per person. Available until 10pm.
Taxi service with Bell Boys:base rate of $50
1- 800-349-3025 Ext 207
or 304-238-8688
---
1- 800-349-3025 Ext 207
or 304-238-8688
Rooms and Accommodation
Luxury, comfort and space. These are the characteristics of the 316 Suites of the Barceló Puerto Vallarta hotel. Book one of them and try the pleasure of staying in an exquisite suite. Don't let the chance to enjoy a fantastic vacation pass you by.
Check-in time: from 3pm.
Check-out: 12 pm
Bars and Restaurants
Delight your palate with a variety of our culinary options in 4 restaurants. Have a refreshing, delicious drink in one of 3 available bars.
La Fuente Restaurant

If you're looking for a culinary experience that's featured for both its flavor and variety, don't miss out on La Fuente. Additionally, their pleasant surroundings with Bay views will make it your favorite spot to try the best international dishes.

Enjoy from the varied menus daily: Spanish Night, Italian, East Asia, Seafood Night, International, Prime Rib and Mexican.

International Cuisine Restaurant Buffet service.

Schedule:
Breakfast: from 8am to 11am.
Lunch: 12:30 to 4:00 pm
Dinner: from 6:30pm to 10:30pm.
Los Arcos Restaurant

A delicious cut of steak with the sound of the ocean in the background and a glass of red wine... perfect to enjoy in Los Arcos restaurant specialized in fine cuts, fish and seafood

A la carte service.



Schedule:
Dinner: from 6.00 p.m. to 10.30 p.m
---
Don Quijote Restaurant


Imagine an exquisite paella accompanied by a delicious red wine, with beautiful views of Banderas Bay.

Don Quijote brings to you, in the Barceló Puerto Vallarta, all the seasonings of Spanish foodto delight your palate.

Spanish specialty restaurant. A la carte service.


Schedule:
Dinner: from 6.00 p.m. to 10.30 p.m.
Capri Restaurant

Elegance and romance with touches if basil, oregano, tomatoes and olive oil. If you visit our Capri restaurant, you'll feel as if you were actually in Italy. And don't forget to try the house gelato - it will surpass your expectations.

Italian specialty restaurant. A la carte service.



Schedule:
Dinner: from 6.00 p.m. to 10.30 p.m.
---
Pool Bar
Enjoy and quench your thirst in the pool with an exceptional variety of drinks from the bar.

Hours: 10:00 am to 6:00 pm.
---
Los Arcos Snack Bar
Enjoy delicious appetizers such as ceviches, hamburgers, fast food and more right in front of the ocean.

Hours: 11 am to 5:00 pm
---
La Cantina Bar
To end the day with live music, Mexican snacks and a drink, La Cantina is the perfect spot to enjoy the night at Barceló Puerto Vallarta.

Schedule:
Bar: 10:00 am to 1:00 am
Snack: 5:00 pm to 1:00 am