We love Temptation Resort and Spa in Cancun. Why? We'll tell you.
It seems as if you have to make a trade-off at many adult only resorts. Either the resort is a sleepy place where all you do is lie around in the sun all day and eat and drink, or it is a place with a lot of action and entertainment. Temptation Cancun gives you both worlds.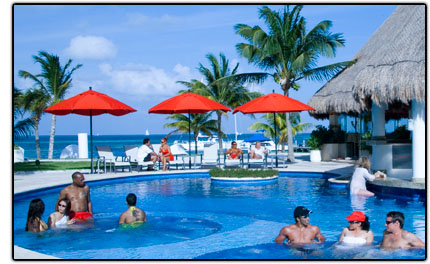 CALL NOW TO GET SUPER LOW RATES

800-349-3025 Ext 207
Temptation offers 346 deluxe rooms and another 36 Jacuzzi rooms with outdoor Jacuzzis on the terrace. What this means is that Temptation is large enough to offer a full range of guest services and amenities, yet still small enough where you can get to know the staff and feel that personalized service. Due to its size, the resort can offer services such as 24 hour dining and 24 hour cocktails. It also can afford a talented entertainment staff that puts on daily events, contests and other activities for those guests who want that additional energy.
The main pool is a great place to hang out during the day. It's right next to the ocean and beach, so you can do the pool, or do the beach. Bartenders at the beachfront palapa serve up cocktails with a smile, the hotel DJ spins upbeat music and the entertainment staff lets you get involved, or just watch, as they put on daily shows.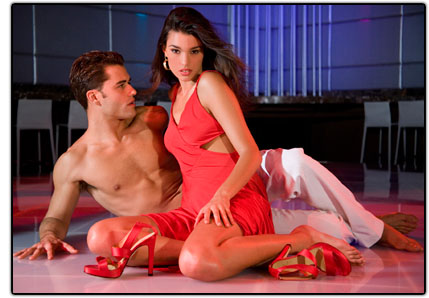 If you're looking for something a little more sedate, Temptation also has the quiet pool. The resort is constructed in segments, which allows for a second pool away from the beach area and the entertainment. Soft music plays in the background and this is place to relax, unwind and restore your energy for other activities later on.
Temptation is all inclusive and that means all of the booze you can drink and all of the food you can eat. The bar is stocked with many premium brand liquors and the bartenders can conjure up just about any cocktail you can imagine. Where Temptation really shines is in the food department. You have a choice of the main buffet, or three different themed restaurants. You can choose from Asian, Mexican or Italian for a gourmet sit-down table service meal. But don't miss out on the buffet. It's definitely one of the best resort buffets we've seen. For the midnight-snacker food is available 24 hours a day, including an afternoon appetizer and burger bar in the central courtyard. The late night burger bar has been voted by guests as the best in town.
CALL NOW TO GET SUPER LOW RATES
800-349-3025 Ext 207
If your thing is hanging at the resort by the pool or beach, Temptation has you covered. But if you're the adventurist type who likes to get away for scuba, snorkeling, jungle adventures, zip lining or site seeing, Temptation is the perfect place. It's centrally located in the hotel district close to the famous Cancun circle, so taking advantage of excursions and activities is easy. The resort staff can arrange just about any adventure you like, and the resort has a great range of activities, such as scuba lessons, fitness activities, wave runners, and other sports available right on the premises.
Temptation is also in the perfect location to explore both old and new Cancun. Unlike some resorts that are located on remote beaches miles from Cancun proper, Temptation is right in the heart of the hotel district. That mean during the day a short walk, bus ride or taxi ride will get you to shops and restaurants. Take time to visit Mercado 28 and old Cancun for lunch and for local merchants, or go high end and visit many of the designer shops located in malls throughout the hotel district. At night, you're only steps away from fine dining off the resort, and some of the hottest clubs and bars in Mexico.
At night the central bar is the place to be. The action starts in the early evening, and goes until the wee hours of the morning. The crowd comes and goes as people go to dinner, explore the bars and clubs off premises, and come back in the evening for a late night snack and cocktail before heading off to bed. It's the place to meet people, whether you're single and looking to find other adults to hang out with, or you're a couple just looking to make new friends. Most evenings you'll find live entertainment, with the resort offering a selection of local bands and singers.
CALL NOW TO GET SUPER LOW RATES 800-349-3025
One of the best features of Temptation is that it is adult only. You have to be over 21 to stay at this resort. That means there are no annoying kids running around to make your vacation miserable. It also means that entertainment and activities are designed for a mature audience. If you want to turn up the sexy, this is the place to do it. In European tradition, the resort also allows topless sunbathing in the pools and beach areas. The resort also has rows and rows of palapa beds by the beach which can be booked in advance. Temptation is the only one on the hotel zone stretch that provides palapa beds as one of the amenities for its guests.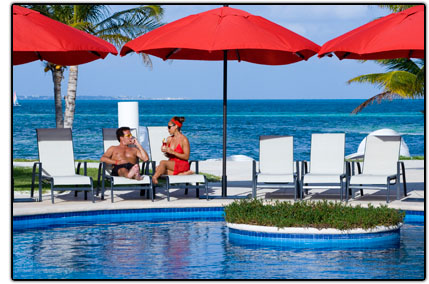 Temptation also has a top rated spa, onsite beauty salon and a huge game room with pool tables, other bar games and big screen TVs. So if it gets too hot out by the pool and you need to cool off, you can take a break, shoot some pool, get a massage or prime yourself up for night on the town.
Any discussion of Temptation would not be complete without mentioning the staff. From the entertainers to the bartenders to the servers to the front desk, Temptation exemplifies the charm and hospitality of Mexico. The resort is owned by a family that operates a small number of resorts in and around the Cancun area. Because it is not a division of some huge multi-national corporation you'll find more of the personality of Mexico here, which means honest, sincere and friendly people that really want to make your vacation the best it can be.
Finally, there is one more reason we love Temptation—value. We've stayed in a $500 a night beach front resorts and some of them are very nice, but we believe very few of them have what Temptation offers. The positives energy of Temptation is unmatched. Dollar for dollar, we believe you'll get far more at Temptation than just about any other Cancun resort. So book your Temptation vacation now. We'll give you a price you just can't beat on a vacation you'll remember for a lifetime.

Upcoming Party Weeks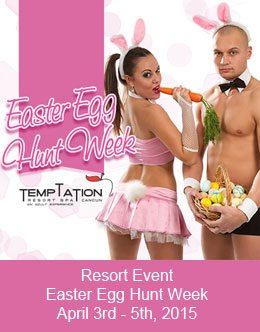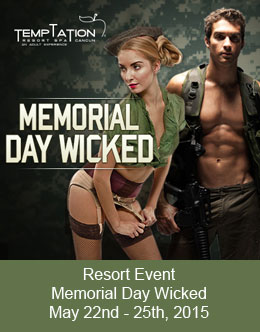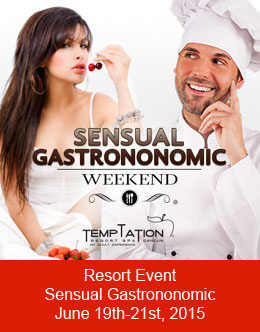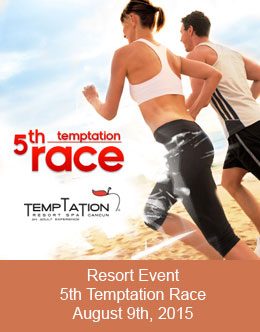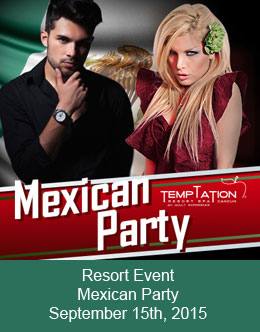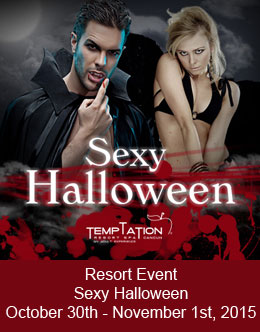 If you are interested in dates that are not listed above Please
Call or Text: (347) 989-4530
Or
Toll Free (800) 349-3025 EXT 207